You sent the perfect campaign email. Where's that perfect reply?
Having spent 7 years of my life working with the web gurus behind Affino, the leading socially aware, customer focused Web Content Management Solution, I thought I pretty much knew all there was to know about creating awesome customer mailshots:
Carefully hone your email list
Target your audience with engaging, relevant content
Chuck in a fantastic offer
Bling your email up with some eye catching design
Shovel out your email to as many inboxes as possible without it being marked as SPAM
Result = a bulging inbox full of smoking hot leads, every time!
Alas, times they are a changing. So if you are not shaking your head at the above list and tutting furiously, you really should check this blog out….
Back to reality
A couple of years ago I took a sales enquiry from one of the UK's leading sales lead generation outfits. It was on this call that I discovered that email marketing had moved on. Or some might say, kind of moved backwards. This is still (and more so) the case today, for those in the know at least…
Gone are the high production values of glitzy HTML rich 'HD' emails with images and links galore. It turns out that for your next email campaign, you'd get a far better response rate if you sent out deliberately drab plain text emails from a guy called Malcolm. Email marketing has gone all 'reality'.
For in today's phishy world, our natural reflex reaction is (or should be) to avoid clicking on anything in emails. Even if it seems totally legit, why risk it?
This is why today's successful email marketer is no longer looking for link clicks, but instead reaching for the stars: they're after a full blooded email reply. After all, what is a link click but a mere expression of mild curiosity? It's the baseball equivalent of a lazy punt to first base. An email reply expressing interest on the other hand, is pretty much a home run, and who knows, maybe the whole ball game.
However, there's a catch. When a recipient clicks on a marketing email hyperlink, unless you have a totally hapless IT department, the click always resolves to a website, tracking is activated and so the first step in the lead generation process is in the bag. The sending of an email reply however; this is not so easy to track, and (shock horror) is not even guaranteed to arrive.
Which leads me on nicely to this enquiry of mine, and the problem which we were being asked to solve.
A victim of accidental mail server 'self harm'
My caller had already spent a fair chunk of time in annoying their IT department to unmask the culprit behind the sudden cliff edge drop in their email campaign response rates. Prime suspect numero uno was the email delivery platform used to send out all their marketing emails: Adestra.
After a thorough investigation, it became increasingly clear to us that there was in fact, no problem with Adestra, and this was very much a case of 'shooting the messenger'. Adestra thus departed the crime scene with our bullet proof alibi (or vest, depending on how you look at it!).
This didn't help answer the riddle of exactly why response rates were down. If people are receiving the emails and then reading the emails, short of giving away wheelbarrows loads of Ocado e-vouchers, what exactly can we do to fix this?
Then we figured it out.
It turned out that recipients were hitting reply after all, just their responses were not getting through.
Like all good email marketers, my callers company had focused ALL their collective energies on the crafting of the perfect email and the delivery of it from perfect platform. They simply hadn't bargained on the fact that their very own email systems were conspiring against them in the capturing of the perfect result: the email reply.
It seems somewhat of an obvious statement to make, but when embarking on an email marketing campaign, if your own company IT related services are not carefully arranged, all the hard work you put in to sending out those precious emails will be in vain. Most marketers would automatically think of chucking virtual sandbags in front of the company website, and yet completely overlook similar arrangement for the company email systems. Big mistake.
Response rate souffle, served four ways
We've identified the four top factors that can cause an email response focused marketing campaign to… fall flat:
Cloud based corporate email systems (MS Office 365 etc), are essentially 'black boxes', and as such, are neigh impossible to monitor down at the per message level. So to start off, you're flying blind.
Your company email provider, plus likely also your own network security systems, contain layers upon layers of malware and virus protection. This makes the task of figuring out just why genuine emails are being tagged as false positives and dropped, a formidable and frustrating one. Many lattes will be required to keep your IT team responsive to your constant email investigation requests!
Many 'zero day threat' anti malware systems will not stop at merely blocking your genuine campaign email replies, they will insist on calling home to 'Spam Central' too. Such 'shared intelligence' services can result your own campaign email characteristics being rolled out globally, so everyone else blocks them too!
Throw a bit of dodgy DNS in to the mix, which for a typical organisational domain, is likely still hosted at the domain registrar it was bought from. Poor DNS will likely result in both your own and the recipient mail servers dropping connections as they fail to perform reverse DNS and other email validation checks.
What it all boils down to, is a situation where you're hoping to catch a bucket load of leads with a leaky sieve of a mail setup.
Our solution was to create NXT MDaemon. A specialist email system, designed for email marketers, specifically tuned for email campaign reception.
For email marketers, it is better to receive than to give!
Since launch, NXT MDaemon has been proven to increase marketing email campaign response rates. Working together with marketing departments and sending platforms like Adestra we have given our customers a far better quality of email service provision:
1) Dedicated email solution account manager
As an ACC Daemon customer on our NXT Daemon solution, you will have your own dedicated account manager with whom you will be able to discuss all email service related matters, in plain English, not techno-speak. Someone on the end of a phone to discuss email with? No need to wake up, you are NOT dreaming!?
2) Campaign / business-centric support
It's of paramount important to us that your email marketing campaigns achieve the highest response rates possible, so integral to our service is the close coordination of your email campaigns. We can be involved in pre-campaign testing, and also keep a watchful eye in real time as the campaign batches are sent out. If you need us to track down a suspected 'missing' email, we will find it, no lattes required!
3) MDaemon Messaging Server
ACC Daemon is amongst a select group of service providers in the UK that host what is in our view, the worlds most advanced email, messaging and collaboration platform, the highly transparent and configurable MDaemon Messaging Server, from MDaemon Technologies. The MDaemon solution gives us an unprecedented level of detail on the characteristics of each email response that comes in. It enables us to do, what we do.
4) Highly configurable routing and rule sets
Our NXT MDaemon solution can be specifically configured and tuned for high performance email reception duties. We have automatic rule-sets for back end content routing of various email types such as un-subscribes, Out Of Office, non-delivery reports – meaning that with these emails buffered up and routed off, the marketing team can focus entirely on those all-important expressions of interest.
5) Granular graphical logging and reporting down to per message level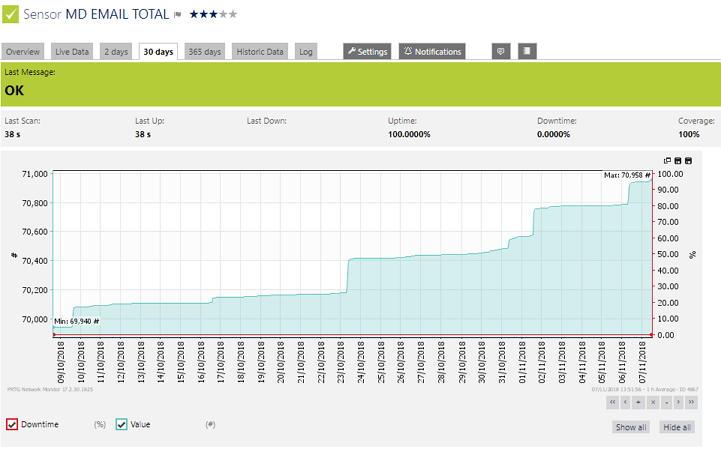 As Paessler PRTG partners, we include a full suite of messaging specific monitoring of all our dedicated NXT MDaemon plans. We can provide customers with essential KPIs, such as number of emails delivered, a 'spamminess' counter, SMTP connections, SMTP connection failures, email queue sizes and much more. All this data is graphed and presented to the in real time, ensuring that you can see exactly what is (and has been) going with your email campaign.
6) Enterprise DNS provision – included
There is no point having fantastic email servers, without also having fantastic DNS too. Our DNS solution is enterprise grade and based on a global system that provides all our systems with the ultimate in scalability and reliability.
7) The enterprise class solution that pays for itself!
Yes that does sound a little corny, but with NXT MDaemon, and the higher response rates it delivers, we are confident our solution will pay for itself before your trial is up. No more lost emails. No more having to bribe your IT people to check for email losses!
NXT MDaemon: Free 14 day trial
We offer a full 14 day trial with our NXT MDaemon service, so what have you got to lose?
A bucket load of leads perhaps!?
Get started on NXT MDaemon today!
Simply contact us and we will get in touch to discuss your requirements, and with details of how to access your trial account.